3Thirteen Seeds
Site Supporter
hA!...just got back from lowes and they had both the tote and the tray. Got two sets , about $35 out the door. Now to assemble the rest and figure how to get it into the routine. I checked and the tray would work on the HDX tote from h_depot as well.
Ive tried both, and though the tray fits into the HDX tote decent, its not a perfect fit like the ones I suggest from Low's. The HDX make the tray sit up above the lip line like 1.5+" while the same tray sits flush in the Commander XXL. Its literally a "perfect fit" with no gaps or light leaks into res etc. Once plants are in it, that 1/8" gap pictured disappears and its lip on lip.
This is the "ODJOB" tray fit inside of the Commander 27 gal tote I suggest: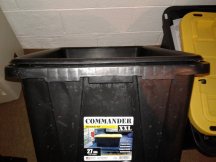 You'll often find the newer trays with the ruler on the top edge instead of the ODJOB trays. Those will work too, but are juuuust a smidge too large in diameter for any of the totes which creates a gap.