Post anything you got for your food gardens.
I have a plan for an orchard and vinyard in the near future and set up my plots to have them ready to drop trees in. For now the area will house a red currant bush that I moved last year and pumpkins.
Two weeks ago I walked over my fence to fetch the two apple trees I up potted into 5 gal buckets. That's one of the beds 20" high lol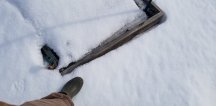 Somebody left the gate open and the deer got to the Honeycrisp and Golden Delicious my heart sank when I grabbed them. From left to right:
Fuji apple 2023, Mutsu apple 2023, Honeycrisp 2022, Golden Delicious 2022 and a Miss Kim Lilac I'm working on propagating.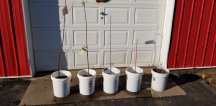 I got excited and started working before I realized I didn't take a before picture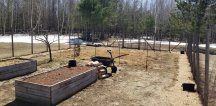 I marked where the trees will go and amended the spots with hot chicken manure, two year old compost and hay (lasagna style). I sprinkled crimson clover, black eyed peas and lentils as a cover crop under the hay and set a rotted chunk of wood to keep the hay from blowing away until it rains and "weaves in place".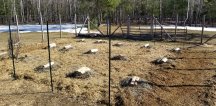 Now I have to figure out where to put the apple tree and currant bush. Also the grapes, blueberries, kiwi and roses I bought.