3Thirteen Seeds
Site Supporter
Pictures on your phone or tablet could possibly be containing info about your location, GPS, etc depending on your settings.
You always want to remove any data that may be attached to your pictures before posting them on ANY site. Though this site is as safe as they come, the pictures you post may not be and may contain info that you likely wouldnt want to share.
-If you post from a cell phone or a tablet, be sure to turn off location/gps etc in the options on your picture taking app.
-If you are unsure about your pics containing data, you can manage your app settings for that app
OR
transfer the pics from your phone to a desktop computer/laptop and then scrub them of all data.
To do this from your desktop/laptop, simply load the pics from your phone or tablet onto your PC.
Once they are on your PC, you can Right Click the picture(s) and go to "Properties".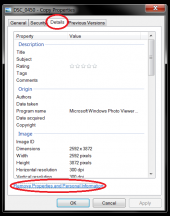 From there you will see a tab called "Details"...click this tab.
There will then be a link at the bottom of the box that says "Remove Properties and Personal Information".
Click this, and now another box will appear and it will have the option to "create a copy with all possible properties removed".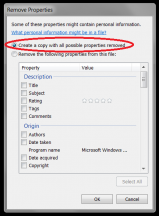 Select this option and click "OK".
You have just made a copy with ALL info removed from the picture.
It is now safe to post without worry of someone mining data from your pics.