Disclaimer: save some seeds for me need more
Wanted to do a quick run of these as I'm doing a pheno hunt for the best performance of a few varieties that make the cut for this years outdoor grow. Also wanted to chuck some paradiso around as well.
Same conditions as my previous run of HSC except more terp enhancement for maximum skunk effects...TPS one, TPS signal, some dyna gro protek, flower fuel, 5:2 grow more liquid humic acid/seaweed extract, experimenting with sulphur which I found in a hydrangea blueing formula. Sulfur supposedly bumps a skunk terps from what I've heard from certain breeders of the skunk mention. Another product on my radar is Key to Lifes silver bullet but out of my budget for the current run.
My twist on super soil mix is 70:30 coco peat, volcanic rock (scorria) pumice dg earthworm castings bone meal, oyster shells green sand langbenite DE crushed oak charcoal.
Lights hlg-550-v2-rspec
Started seeds mid Jan and initiated flower on 3/17 prior to taking cuts of all. Rushed them a bit so maintained veg formula in the beginning of flower. There was a little chaos at flip (transplant stress 3 plants to 1 20 gal fabric pot) so that explains the late topping of Chem Fuego Dog patch and Hunza got a slight case of PM 6 weeks in due to flushing (fungus gnats Finkelstein kids SOB) and humidity spike. So far they matured nicely somewhat on time but planning on letting develop seeds completely.
Schism: TITS, also known as "This Is The Shit," is a sativa dominant hybrid strain (70% sativa/30% indica) created through crossing the classic Sour Diesel X OG Kush Breath strains x Chemdog 91 Bx3. Lotsa stretch almost doubled in size.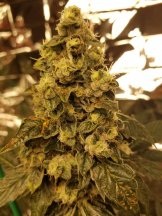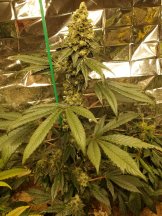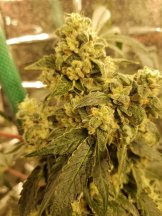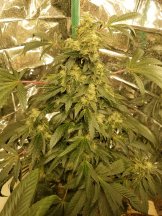 Leggo my Fuego: Sour Diesel x Head Band x Chemdog 91 Bx3. Be super careful with the nitro!!! Super sensitive. Average stretch.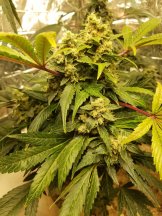 Dog patch Chem 'D' x Chemdog 91 Bx2 Light stretch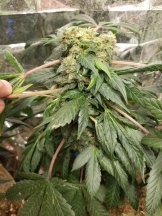 Hunza valley Skelly Hash Plant aka THE PUCK x Chemdog91 BX3 very little stretch super dense nugs.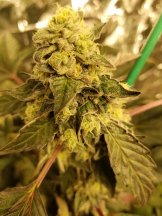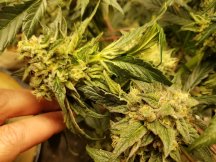 Extra credit: Archives dilaudid the rankist of the bunch
Last edited: