I got tired of using cramped tents for drying, so I converted a small 8'x 8' room into a dedicated drying room. I used one big 84" x 84"x 24" Kobalt HD shelf unit as the main hanging area and (so far) one other shelf of a similar design which is 36" x 18". The shelves are a bit over 2' spart vertically, which is just right for the length of the branches I tend to cut to hang. The wire mesh used for the shelves makes perfect hanging spaces, and is easy to clean.
I wanted to have a system that will keep the room at 60% humidity at 60 degrees, year round, and one that would automatically use outside air when the temperature is lower than 60 degrees to avoid using an AC unit when not needed ( electricity is very expensive here).
To accomplish this, I installed a dedicated single-output-tube portable AC unit in one corner ( that vents directly out the wall), and a fresh air intake in the other corner which uses a big MERV-13 filter box and an 8" blower. Two tower fans, one high and one low, oscillate and blow at low speeds, but not directly on the hanging goods, just enough breeze so the buds are swaying very slightly.
To make the room switch between the two, I'm using a BN-LINK Digital Temperature Controller with the remote temp probe wired through the wall so the probe is outside. The AC unit is plugged into the "Cooling" outlet. The unit is set at 60 degrees, so when it's hotter than 60 OUTSIDE, the AC unit runs. When it's cooler than 60 outside, the "Heating"outlet gets power. Into this outlet I plugged a second cooling thermostat, this one with the probe inside the room. So when it's cool outside, this blower will operate until the room cools to 60 degrees.
To control humidity, there is both a small dehumidifier and a small reptile humidifier, plugged into an Inkbird humidity controller.
It seems to be working very well so far, switching to fresh air later in the evening and then on AC during the day.

Fresh air intake using HVACQuick CFB Series MERV-13 filter box: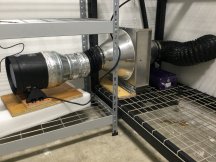 Full House!