What's shakin' fellow growers? I've been waiting to say that for decades. At 40, I decided to throw caution to the wind and set up my first grow.
I decided on Runtz Muffin as my cultivar, and the AC Infinity 3x3 Advance Grow Kit as my setup.
https://acinfinity.com/hydroponics-growers/plant-kits/advance-grow-tent-systems/advance-grow-tent-system-3x3-3-plant-kit-wifi-integrated-controls-to-automate-ventilation-circulation-full-spectrum-led-grow-light/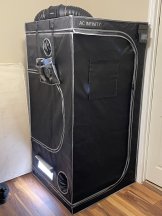 Here's the progression of young Thelma. Currently 23 days old. Her sister Louise suffered a bit when I Transplated her into Happy Farms Soil with 15% coco coir. Seeing as Thelma would likely fill my 3x3 on her own, I gave Louise to a friend, where she will be well taken care of.
She is growing stout and bushy. I decided to prune her and perform some HST on day 22. I enlisted some surgical tape on a few branches to aid in positioning. She's already recovering and looks like she will provide a nice, Even canopy… removing any doubt I may have had about her filling my 3x3.
She is responding very well to the AC Infinity S33 light. The color temp seems to favor Veg. Im debating on switching lights, or adding supplemental flower(Maybe my two ViperSpectra V300 I bought for my first false start 5 years ago will get used.)
That does it for me. I look forward to posting in here often… and bugging you guys with stupid questions
Thanks for having me
-Reed Spacer