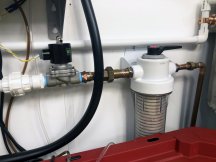 I've been using this DIY full auto drain-to-waste system I designed for about a month now with no issues. It uses simple digital timers to make everything happen, with the exception of the aquarium auto-doser I use for fertigation, which has it's own internal program/clock.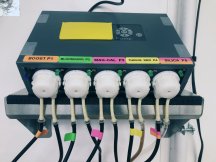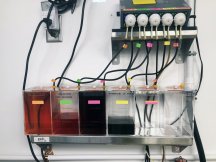 It makes batches of nutrient twice a day, starting with an electric solenoid water valve operated by a timer opening up for 2 minutes to fill the nutrient tank to the desired level ( this is from a cold water line, using the house water pressure) with fresh water.
Next, the auto-doser is programmed to begin adding the different nutrients to the fresh water from the clear graduated plastic tanks shown, using the small peristaltic pumps on it's front panel. A small circulating pump at the bottom of the tank and some air stone stay on until it's time to deliver the nutrient.
4 hours later, another timer operates a sump pump in the bottom of the nutrient tank, delivering the nutrient through pvc lines and a simple array of large-outlet-size drip rings designed to flood the surface of the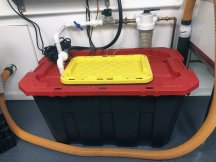 coco in 2 minutes, with 50% waste. ( Rather than use a tank heater, I am letting the nutrient sit for about 4 hours to let it warm up a bit from the 58 degrees it is in winter.)
The waste water is allowed to drip down for an hour before sump pumps in the drain trays come on for 2 minutes and pump the waste water over to a utility sink for disposal. These pumps come on again for one minute an hour later just in case there is more drain-down.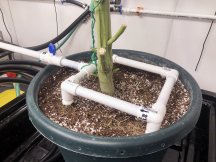 And that's all there is to it. All I do is keep the nutrient tanks full and rinse out the nutrient and drain tanks every 5 days.
Some simple pvc stands and under-bed trays for drainage: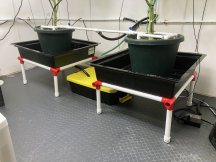 Inside the nutrient tank: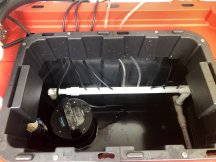 Waster water outlet: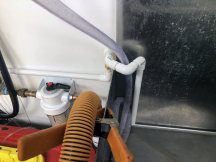 Main setup from back a bit: