Three phenos of this strain are among the 11 strains I'm harvesting now. These were some free seeds that I got a long time ago. The description sounded pretty interesting, so I thought I would give it a shot. It's a cross of Grandaddy Purps and Orange Bud (Orange Punch), based on "Kritikal Bilbo genetics" . None of the three phenos I ran were big producers, but all look and smell fascinating - I'm pretty eager to press some rosin when it's dried and cured.
I'll start with #1, the pheno I kept. This one makes big puffy sativa-like buds with orange pistils and a high calyx-to-leaf ratio. It has a lovely sour orange/hashy aroma that is kind of nostalgic ( for old stoners, OK?). It's most distinct characteristic are the big sun leaves with deep curvy serrations on long petioles. It grows very wide and stocky in veg. I took most of the big sun leaves off as it grew, they were just covering too many branch tips. Definitely recommend doing plenty of pruning of the lower parts of the branches to avoid crowding.
COP#1 as a Young Plant: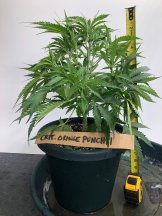 The #1 is getting harvested right now at 59 days of flowering. Really nice array of fat buds. This is just a "test" plant in a 3 gallon pot that sits in an aisle area, and gets moved all over and generally abused, so even better results would be possible if they weren't mistreated in such a fashion.
COP#1 All Grown Up: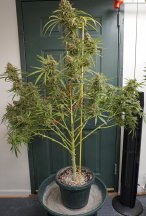 Fresh COP#1 Colas: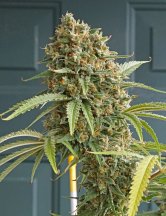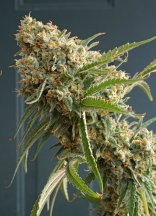 A couple microscope shots from just before the chop: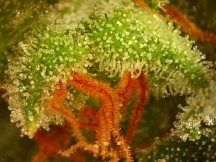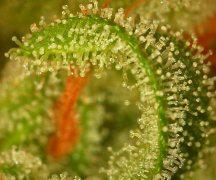 Ok back to trimming...review of 2 and 3 will follow eventually!